Did you know that we have dinosaur tracks right here in town? Over the summer, we went on an adventure in search of real dinosaur tracks. We had been 3 years earlier. However, the boys barely remembered seeing them. And our now 3 year old had never seen them, so it was time to go back. Getting there can be a little bit tricky. However, we have the details on how to find them right here! (Or you can follow these directions.)
Where to park
Firstly, you have to know where to park. We had some trouble with this the first time we went, but had a much easier time this summer. We found the best spot to park is in between the North and South sides of the 183 right above the San Gabriel River. There is a dirt lot that leads down to the river bed.
Finding the dinosaur tracks
When you get down to the river bed, head west for about a half mile. If you can still see the bridge from the 183, you haven't gone far enough. The footprints can be hard to spot for some, so keep your eyes down. We knew what to look for because when we went the first time, they were encased in white plaster that really made them stand out. That wasn't the case this time, but we were still able to see them without trouble.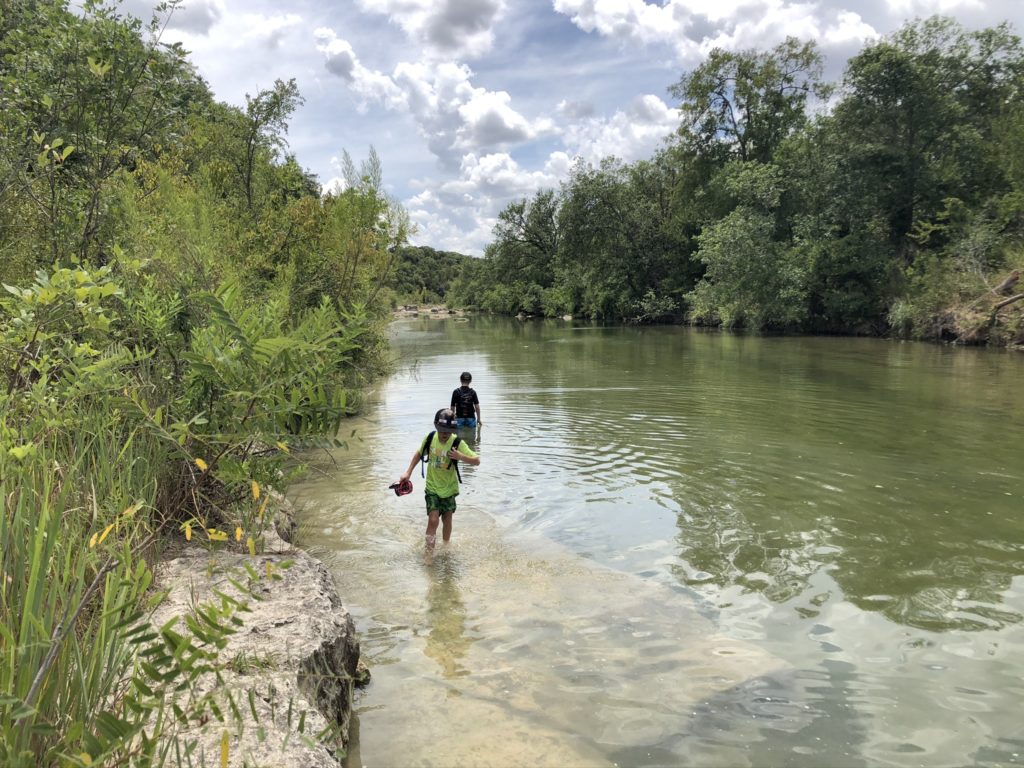 The river
The river was too deep to walk through when we went. However, the water didn't seem safe enough to swim through on such a hot day, so we went around it up on the left. There is a tiny hidden little trail that takes you up and away from the water. Eventually you get to a spot where the water is still there but much more shallow and easy to wade in and walk through. I definitely recommend that you wear your water shoes for this hike!
Frogs and the creek
My kids thought the footprints were cool and all, but they had much more fun trying to catch tiny little frogs and throwing pebbles into the creek. It gets pretty hot here in the summer and there is basically zero shade, so make sure you bring plenty of water, wear hats and lots of sunscreen.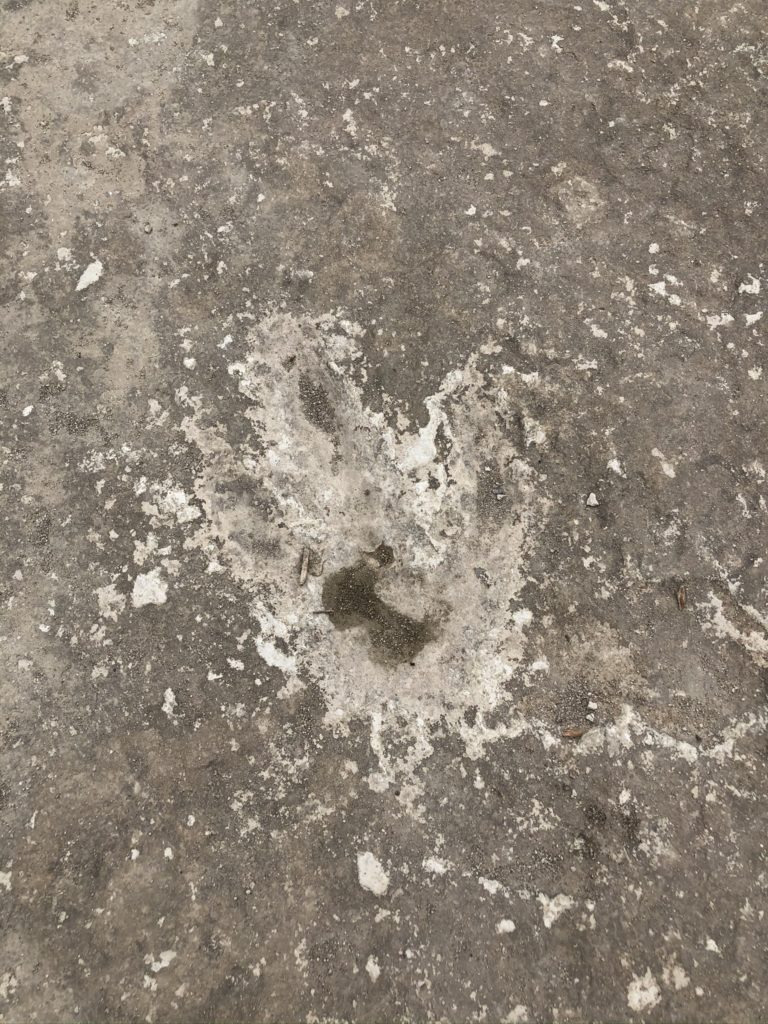 We love an easy hike where there's something exciting waiting for us at the end, like a playground or somewhere to swim. Dinosaur tracks have to be some of the coolest things you can go searching for on a hike! For more easy hikes, go here!
Austin Active Kids Opinion
We have been twice and I would definitely recommend not going on a super hot day. There is basically zero shade and it gets super hot down there! The footprints are impressive if you've never seen anything like that before. However, for my kids, the toads stole the show!
Reminders
Wear water shoes. Depending on how much rain there has been recently, the tracks might be completely under water. Bring water to drink on hot days. Wear hats and sunscreen. Use caution if swimming and check water quality before you go.
Outing time
We were there for about 2 hours total. It takes about 45 minutes to find the tracks if you go at a toddler's pace (read: s-l-o-w).
Dinosaur Tracks Location
There isn't an exact address, but this one will get you close to the parking lot. Remember, you will have to park in between the two sides of the 183. 601 S. Gabriel Dr, Leander